Brachioplasty, also known as an arm lift or arm tuck, is a plastic surgery designed to remove redundant, flabby and sagging skin folds of the upper arms. This is the excess skin gathered closer to the armpit. Hanging arm skin folds are not only unsightly, but also interfere with ones ability to fit in sleeved tops, as well as causing underarm skin rash and irritation.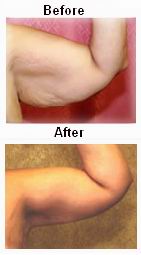 This procedure is usually done under general anesthesia. An incision that runs from near the elbow into thealt armpit is made to remove the unwanted skin. It is done on the inner arm toward the back, where the excess skin is removed and the incision is then closed. Some scarring will always be visible after healing.
In a Standard Brachioplasty an incision extends from the axilla or the armpit to the elbow on the inside of the arm. Suitable measurements are taken and the excess skin flab is completely excised. The incision is closed by suturing the different layers separately with dissolvable sutures.
The choice of location of the incision depends on the doctor.
In Extended Brachioplasty, the incision is extended from the elbow to the axilla and then along the outer side of the chest.
All surgical procedures have some degree of risk. Minor complications that do not affect the outcome occur occasionally.
Post surgery, the upper arms are wrapped in an elastic sleeve to reduce swelling. Healing usually occurs in 10-14 days. Sutures can be removed within 2-3 weeks. The swelling and bruising around the area gradually disappear over 3-4 weeks. The scars depending on your skin fade off in 6 months to 2 yrs.
The other Cosmetic Procedures are:
Few Popular Hospitals for Brachioplasty are:
Thailand, Malaysia, Singapore, Turkey and India are the most cost effective locations that offer up to almost 80% savings in comparison to the US.
SurgeryPlanet facilitates a plethora of services to the medical treatment traveler also which includes, a hassle free and discounted travel option, a welcome hand at the airport on arrival, travel in an air-conditioned car, round the clock service & support. Your medical evaluation is pre arranged with the least of waiting time. Once your assessment is complete and found medically fit, the procedure is immediately scheduled without a waiting period. Please read through our Services and Testimonials to understand and select your best options.
Major Treatments Abroad: Obesity / Bariatric Surgery | Spine Surgery | Stem Cell therapy | Fertility treatment | Knee replacement in India and Thailand | Heart Surgery | Organ transplant | Ayurveda Treatment | Heart valve replacement | Hip resurfacing | Hospitals in India and Thailand for Laparoscopic Sterilization| Best hospitals in Asia | JCI & ISO certified Hospitals | Cost effective medical procedures | Healthcare tourism | Complete privacy for affordable cost | Weight loss procedures | Infertility treatment | Board certified physicians | Low cost surgeries