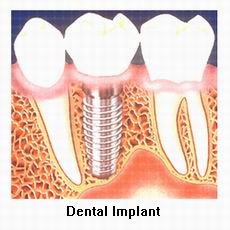 Dental Implants are an alternative option given to patients requiring dentures. Dental Implants are small dental devices that are inserted into the upper and lower jaw to help restore the mouth that has little or no teeth that can be restored. Dental implants are slowly gaining on popularity because of their many advantages over age-old dentures.
Advantages of implants over dentures:
For some people, particularly persons with loose or poor fitting dentures due to flat ridges, or persons with multiple missing teeth who need support for crowns and bridges, implants may be considered a more appropriate alternative to fix the appearance of missing teeth than dentures.
Implants help to accomplish the following:
Helps reduce movement of dentures, bridges and/or crowns
Helps in proper chewing
Provide support and improved stability for removable dentures or fixed bridge work
Approximate the "feel" of natural teeth better than dentures
Promote "denture self-confidence", as speech and appearance are often improved
Before undergoing this procedure the main factors to be considered are the following:
The health of the patient
Healing abilities to injuries
Placement and technique
Proper handling of the implant by the patient and the dentist
There are many different types of dental implants from which to choose, including:
Artificial bone substitute
GIn this kind of implant the similar kind of mineral that is found in bones is used. This helps the implant to bond to the existing jaw bone. The synthetic bone substitute is placed on top of the bone to help rebuild the shrinking ridge and provide a strong support for dentures.
Endosteal implants
This type of implant is inserted into the jaw bone to serve as the tooth's root.
Subperiosteal implants
This type of implant, usually an option for persons who can no longer wear conventional dentures, involves a specially-designed implant that fits directly on the existing bone.
Dental implants may either be inserted by a dentist specially training in implantology, or by an oral surgeon in a hospital.
The other Dental Procedures are:
Few Popular Hospitals for Dental Implants are:
Thailand, Malaysia, Singapore, Turkey and India are the most cost effective locations that offer up to almost 80% savings in comparison to the US.
SurgeryPlanet facilitates a plethora of services to the medical treatment traveler also which includes, a hassle free and discounted travel option, a welcome hand at the airport on arrival, travel in an air-conditioned car, round the clock service & support. Your medical evaluation is pre arranged with the least of waiting time. Once your assessment is complete and found medically fit, the procedure is immediately scheduled without a waiting period. Please read through our Services and Testimonials to understand and select your best options.
Major Treatments Abroad: Obesity / Bariatric Surgery | Spine Surgery | Stem Cell therapy | Fertility treatment | Knee replacement in India and Thailand | Heart Surgery | Organ transplant | Ayurveda Treatment | Heart valve replacement | Hip resurfacing | Hospitals in India and Thailand for Laparoscopic Sterilization| Best hospitals in Asia | JCI & ISO certified Hospitals | Cost effective medical procedures | Healthcare tourism | Complete privacy for affordable cost | Weight loss procedures | Infertility treatment | Board certified physicians | Low cost surgeries