Knee joint replacement is a surgery done to replace a damaged or diseased knee joint with a suitable artificial joint.
Causes
Knee joint replacement surgery is done when the surfaces of the joint are no longer smooth and the cartilage lining has worn away. This makes the knee painful and stiff.
Knee joint replacement is recommended for:
Arthritis of the knee and decreased knee function caused by arthritis
Knee pain along with limitations in activities
Tumor in the knee
The operation is generally done under general anesthesia or with a spinal or epidural anesthesia.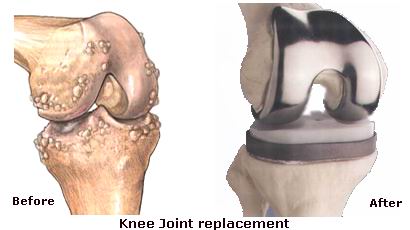 A surgical cut is made over the affected knee. The kneecap is positioned suitably and the ends of theKnee Joint Replacement thigh bone and shin bone are cut to fit the artificial joint. The undersurface of the knee cap is trimmed to allow the surgeon to place an artificial piece. Implants are different for men and women to account for differences in their anatomy.
A special bone cement is used and the two parts of the prosthesis are attached onto the ends of the femur, tibia and undersurface of the patella. Plastic is used on the end of the tibia and patella while metal is opted to be used on the end of the femur. A mini-surgical cut is sometimes done to avoid cutting the tendon on the front of the knee. Difficulty of the surgery is that there would be lack of a clear view for the surgeon. Otherwise this ensures a faster and less painful recovery.
A foley catheter may be inserted during surgery to monitor the function of your kidneys and hydration level. This will be removed on the second or third day after surgery.
In rare cases displacement or loosening of the artificial joint can occur. An infection in the area can lead to removal of the joint
The results of a total knee replacement are often excellent. The operation relieves pain in most patients and most need no help walking after recovery. Most prostheses last for 10 to 15 years. Some may last as long as 20 years.
You will have a large dressing done to your knee post-operatively. There will be special stockings placed on your legs to reduce the risk of blood clotting. There will also be a small tube that will be placed during surgery to drain out all the excess fluid from the joint area. An IV will also be given till such time that you will be able to take in food/fluids orally. The doctor would also advise certain medication and antibiotics to treat the pain.
Hospital stay will be for 3-5 days, though the total recovery period varies from a few months to a year. You would start moving and walking as early as the first day after surgery with assistance and guidance from physiotherapists. Basic exercises in bed will help bend and straighten your ankles to prevent blood clots.
Some surgeons recommend using a continuous passive motion (CPM) machine that will bend the knee for you while you're in bed. Over time, the rate and amount of bending will increase. Always keep your leg in the CPM device when in bed. This device helps speed recovery and reduces pain, bleeding and infection.
A short stay in a rehabilitation hospital is recommended to some patients to become safely independent in their daily activities. You might need to use crutches or a walker for a few weeks or even months after surgery.
The
physical therapy started in the hospital will continue after you've gone home until your strength and motion return. Avoid contact sports, but you should be able to do low impact activities, such as swimming and golf, after you fully recover from surgery.
The other Orthopedic Procedures are:
Few Major Hospitals for Knee Joint Replacement are:
Thailand, Malaysia, Singapore, Turkey and India are the most cost effective locations that offer up to almost 80% savings in comparison to the US.
SurgeryPlanet facilitates a plethora of services to the medical treatment traveler also which includes, a hassle free and discounted travel option, a welcome hand at the airport on arrival, travel in an air-conditioned car, round the clock service & support. Your medical evaluation is pre arranged with the least of waiting time. Once your assessment is complete and found medically fit, the procedure is immediately scheduled without a waiting period. Please read through our Services and Testimonials to understand and select your best options.
Major Treatments Abroad: Obesity / Bariatric Surgery | Spine Surgery | Stem Cell therapy | Fertility treatment | Knee replacement in India and Thailand | Heart Surgery | Organ transplant | Ayurveda Treatment | Heart valve replacement | Hip resurfacing | Hospitals in India and Thailand for Laparoscopic Sterilization| Best hospitals in Asia | JCI & ISO certified Hospitals | Cost effective medical procedures | Healthcare tourism | Complete privacy for affordable cost | Weight loss procedures | Infertility treatment | Board certified physicians | Low cost surgeries