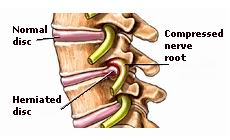 A slipped disc can occur at any level in the spine. A rupture or splits that can occur with time, on the discDISC HERNIA that is located between the bones of the spine is known as a slipped disc. The gel-like substance known as nucleus pulposus inside the discs can be ejected through this anular tear. This is called a herniation of the nucleus pulposus—or a herniated disc. The elasticity and water content of the nucleus pulposus decrease with age and because of this people in the age group of 30 to 50 are those most at risk for herniation. If the disc herniates in the direction of the spinal cord or nerve root, it can cause neurologic compromise. Disc herniations in the cervical spine can be serious. If significant enough, they can cause paralysis of both the upper and lower extremities, though this is extremely rare.
Symptoms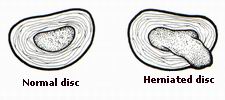 Symptoms of a herniated disc may include dull or sharp pain, muscle spasm or cramping, weakness, tingling or referred pain.
Referred pain means that you have pain in another part of your part as a result of the disc problem. For example, if you have a bulging disc or a herniated disc in your low back, you may have referred pain in your leg known as sciatica—a shooting pain that can extend from the buttock into the leg and sometimes into the foot. Usually just one leg is affected.
The following are the emergency signs that can be noted:
Severe or mild disabling pain
Pain is getting worse
Pain in the legs or arms along with weakness, numbness or a tingling
Loss of feeling or weakness in your bladder or anus
Loss of bowel or bladder control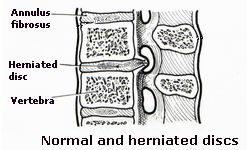 Conservative treatment is first adviced for such situations. If a patient does not have relief post 6 to 12Normal and Heriated Disc weeks of conservative care, then surgical intervention may be suggested to treat the lumbar herniated disk. Surgery helps alleviate the pain faster. In event of severe pain and functional disability, surgery may be a good option even before six weeks of symptoms.
In rare situations where a progressive neurological deficit, or a sudden onset of bowel or bladder dysfunction is noted an immediate surgical evaluation is suggested because these symptoms and conditions represent a surgical emergency. Most surgery for a lumbar herniated disk is an elective procedure.
Surgical treatment options for the lumbar herniated disk include:
Microdiscectomy (the most common procedure)
Lumbar laminectomy
Chymopapain injections
Arthroscopic lumbar discectomy
Microendoscopic surgery
A lumbar microdiscectomy (also called a lumbar micro-decompression) is considered the gold standard and is the most common surgery to alleviate pain from a lumbar herniated disk.
This procedure is done under spinal anaesthesia. Hospitalisation would vary between 2 to 4 days. One can resuume normal basic activities in 7 to 10 days.
The other Orthopedic Procedures are:
Few Major Hospitals for Treatment of Disc Hernia are:
Thailand, Malaysia, Singapore, Turkey and India are the most cost effective locations that offer up to almost 80% savings in comparison to the US.
SurgeryPlanet facilitates a plethora of services to the medical treatment traveler also which includes, a hassle free and discounted travel option, a welcome hand at the airport on arrival, travel in an air-conditioned car, round the clock service & support. Your medical evaluation is pre arranged with the least of waiting time. Once your assessment is complete and found medically fit, the procedure is immediately scheduled without a waiting period. Please read through our Services and Testimonials to understand and select your best options.
Major Treatments Abroad: Obesity / Bariatric Surgery | Spine Surgery | Stem Cell therapy | Fertility treatment | Knee replacement in India and Thailand | Heart Surgery | Organ transplant | Ayurveda Treatment | Heart valve replacement | Hip resurfacing | Hospitals in India and Thailand for Laparoscopic Sterilization| Best hospitals in Asia | JCI & ISO certified Hospitals | Cost effective medical procedures | Healthcare tourism | Complete privacy for affordable cost | Weight loss procedures | Infertility treatment | Board certified physicians | Low cost surgeries