Elbow replacement is surgery to replace the bones that make up the elbow joint with artificial joint partsElbow Replacement- (prosthetic components).
Causes
Osteoarthritis
Rheumatoid arthritis
Severely broken bone at the joint
Severely damaged or torn tissues in the elbow
Tumor in or around the elbow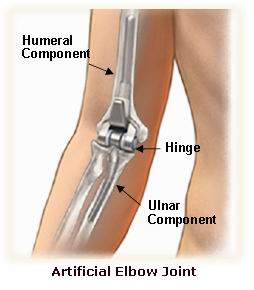 An incision, usually in the back of the upper and lower arm, is done to expose the elbow joint. The end of the bones of the elbow joint is removed along with any damaged tissues. The surgeon then removes a portion of the center of the humerus and ulna and inserts one part of the artificial joint into each bone. The artificial joint consists of two stems made of high-quality metal. They are joined together with a metal and plastic hinge that allows the movement for the joint. Orthopedic cement known as bone cement is used to hold the stems in place.
The two stems are then attached together with the hinge system. The wound is closed with stitches, a suitable bandage and a splint will be used for stability.
Elbow replacement surgery is done on patients where the joint has been severely damaged.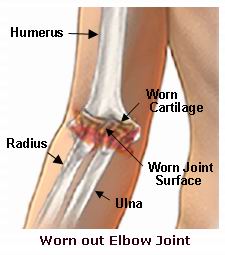 Bleeding or infection is the risk as in any surgery. The other possible risks could be:
Nerve damage
Damage to Blood vessels
Breakage of bones
Dislocation of the artificial joint
Loosening of the implant over time
Allergic reaction to the implant
The patient may receive general anesthesia (unconscious, no pain) or local anesthesia along with a medine to relax during the operation.
The patient may stay in the hospital for up to 3 - 4 days.
Basic exercises are adviced by the surgeon at the appropriate time. Assistance for everyday activities, such as driving, shopping, bathing, meal preparation and household chores would be required for up to six weeks.
Some patients may begin to regain function of the elbow as soon as 12 weeks after surgery, although additional recovery can take up to a year.
The patient should not lift more than five pounds with the operated arm, even when fully recovered.
The other Orthopedic Procedures are:
Few Major Hospitals for Elbow Replacement are:
Thailand, Malaysia, Singapore, Turkey and India are the most cost effective locations that offer up to almost 80% savings in comparison to the US.
SurgeryPlanet facilitates a plethora of services to the medical treatment traveler also which includes, a hassle free and discounted travel option, a welcome hand at the airport on arrival, travel in an air-conditioned car, round the clock service & support. Your medical evaluation is pre arranged with the least of waiting time. Once your assessment is complete and found medically fit, the procedure is immediately scheduled without a waiting period. Please read through our Services and Testimonials to understand and select your best options.
Major Treatments Abroad: Obesity / Bariatric Surgery | Spine Surgery | Stem Cell therapy | Fertility treatment | Knee replacement in India and Thailand | Heart Surgery | Organ transplant | Ayurveda Treatment | Heart valve replacement | Hip resurfacing | Hospitals in India and Thailand for Laparoscopic Sterilization| Best hospitals in Asia | JCI & ISO certified Hospitals | Cost effective medical procedures | Healthcare tourism | Complete privacy for affordable cost | Weight loss procedures | Infertility treatment | Board certified physicians | Low cost surgeries