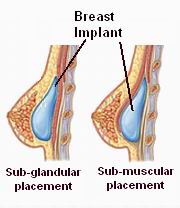 Breast implant surgery is a procedure in which a silicone shell is implanted into the breast. An incision is madeBreast implant in the crease of the armpit, beneath the nipple, underneath the breast or in the abdomen to insert the implant. The incision is made with a special instrument which helps create a space for the implant. A bandage will be applied over your breasts for two days after surgery to speed up healing.
All breast implants utilize a silicone shell but contain different kinds of filler, gel or saline. The outer silicone shell may be smooth shiny and polished, or a slightly rough texture. Breasts augmented with the textured implants are less likely to develop contracting capsules than those with the smooth implants.
There are two techniques adopted for placing implants. The options are discussed between the patient and the surgeon prior to surgery to adopt the most suitable one. The implants can be placed under the breast tissue and over the chest muscle or under the chest muscle and breast tissue.
The procedure takes approximately one hour and is done under local anaesthesia with sedation or general anaesthesia. The surgeon will decide the most suited in consultation with the patient.
All dressings and bandages will be removed on the third day following the operation following which the patient can bathe as usual. Basic exercises and movements as adviced by the doctor has to be done to improve breast contour and assist healing.
The other Cosmetic Procedures are:
Few Popular Hospitals for Brachioplasty are:
Thailand, Malaysia, Singapore, Turkey and India are the most cost effective locations that offer up to almost 80% savings in comparison to the US.
SurgeryPlanet facilitates a plethora of services to the medical treatment traveler also which includes, a hassle free and discounted travel option, a welcome hand at the airport on arrival, travel in an air-conditioned car, round the clock service & support. Your medical evaluation is pre arranged with the least of waiting time. Once your assessment is complete and found medically fit, the procedure is immediately scheduled without a waiting period. Please read through our Services and Testimonials to understand and select your best options.
Major Treatments Abroad: Obesity / Bariatric Surgery | Spine Surgery | Stem Cell therapy | Fertility treatment | Knee replacement in India and Thailand | Heart Surgery | Organ transplant | Ayurveda Treatment | Heart valve replacement | Hip resurfacing | Hospitals in India and Thailand for Laparoscopic Sterilization| Best hospitals in Asia | JCI & ISO certified Hospitals | Cost effective medical procedures | Healthcare tourism | Complete privacy for affordable cost | Weight loss procedures | Infertility treatment | Board certified physicians | Low cost surgeries