Facial implants are designed for augmentative, reconstructive or rejuvenative purposes. These are used to restore contour or proportion and come available in a wide range of sizes and styles for the chin, jaw, nose and cheek. Facial implants can enhance your appearance and bolster your self esteem. If you desire to improve your appearance and are realistic in your expectations, you may find that a facial implant is the right choice for you.
These implants are used to bring better balance to the features of a patient. A nose can be reshaped or a chin brought forward for better looks and proportions. The more mature patient may choose to have an implant placed in conjunction with another cosmetic procedure. For example, during a facelift, a patient may wish to have implants placed over the cheekbones to help restore a more youthful appearance. Implants may also be selected to fill out a face that appears "sunken" or tired.
Facial implants can produce some remarkable changes.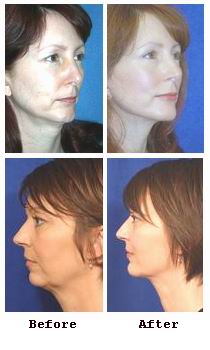 The procedure follows a similar pattern for all facial areas. The surgeon makes a small incision near where the implant will be placed, either in a crease or inside the mouth at the gum/lip junction. Then a pocket is made in the facial tissue, the implant inserted and the incision is stitched. The process generally takes 1-2 hours, usually with general anesthesia. The incision is bandaged or taped and stitches are removed in 5-10 days (sutures placed inside the mouth will dissolve in a similar period of time). Sometimes facial implants are inserted at the same time as a facelift, nose or eyelid procedure is performed.
Chin Implant
Insertion of a chin implant takes about 30 minutes to an hour. An implant of the proper size and shape to enhance your appearance is inserted into a pocket over the front of the jawbone. The small incision to create the pocket and insert the implant is placed inside the mouth (along the lower lip) or in the skin just under the chin area.
The chin is taped after surgery to minimize swelling and discomfort. Sutures in the skin will be removed in five to seven days. If an intra-oral incision is used, the sutures will dissolve. You will experience some discomfort and swelling in the affected area for several days. It is normal to experience some temporary difficulty with smiling and talking.
Cheek Surgery
Cheek implant surgery usually takes about 30 to 45 minutes. When cheek implants are being placed in conjunction with another cosmetic procedure, such as a facelift, forehead lift or eyelid surgery, the implants may be inserted through the incisions made for those procedures. Otherwise, an incision will be made either inside your upper lip or your lower eyelid. A pocket is then formed and an implant is inserted.
After surgery, a dressing will be applied to minimize discomfort and swelling. The severity and duration of such side effects may vary, especially if another cosmetic procedure was performed at the same time. Stitches used to close the incisions inside your mouth usually dissolve within about 10 days.
Lower-Jaw Surgery
Insertion of a jaw implant usually takes about one to two hours. Internal incisions are made on either side of the lower lip to provide access for creating a pocket into which the lower-jaw implant can be inserted. Dissolving sutures are used to close the incisions.
There would be swelling for 2 to 3 days although most of the significant swelling will subside over a period of several days, prolonged mild swelling may prevent your final facial contour from becoming apparent for several months.
During the healing phase, your activities and diet will be restricted. Your ability to smile, talk or move your mouth in any way may be limited for several days to weeks following surgery. Your plastic surgeon will instruct you about dental and oral hygiene during your recovery.
One would look better in a short period of time. Avoid sports or other activities that may result in the face being jarred or bumped till such time as advised by the surgeon.
Benefits:
Return to work and other normal activity within a week
Generally performed in the surgeon's office or an outpatient surgical center
Adds aesthetically pleasing contour to the face
Results are essentially permanent
Other Considerations:
As with any surgical procedure, infection may occur. If the infection persists, the implant may have to be removed and replaced at a later time.
Shifting of the implant is another possibility. Should the implant become slightly misaligned, a second procedure might be necessary to reposition it.
Postoperative bruising and swelling. Mild/moderate discomfort for 1 to 2 days.
Strenuous activity and rough contact to the implant area must be avoided for 4 to 6 weeks
Patients with gum or dental problems will want to confer with their dentist
A facial implant can shift slightly out of alignment and a second surgery may be required to re-position it. Infection is another risk that can happen with any operation. If an infection does happen after an implant and does not clear out even after medication with antibiotics, the implant will have to be temporarily removed and replaced at a later time.
The other Cosmetic Procedures are:
Few Popular Hospitals for Face and Neck Lift are:
Thailand, Malaysia, Singapore, Turkey and India are the most cost effective locations that offer up to almost 80% savings in comparison to the US.
SurgeryPlanet facilitates a plethora of services to the medical treatment traveler also which includes, a hassle free and discounted travel option, a welcome hand at the airport on arrival, travel in an air-conditioned car, round the clock service & support. Your medical evaluation is pre arranged with the least of waiting time. Once your assessment is complete and found medically fit, the procedure is immediately scheduled without a waiting period. Please read through our Services and Testimonials to understand and select your best options.
Major Treatments Abroad: Obesity / Bariatric Surgery | Spine Surgery | Stem Cell therapy | Fertility treatment | Knee replacement in India and Thailand | Heart Surgery | Organ transplant | Ayurveda Treatment | Heart valve replacement | Hip resurfacing | Hospitals in India and Thailand for Laparoscopic Sterilization| Best hospitals in Asia | JCI & ISO certified Hospitals | Cost effective medical procedures | Healthcare tourism | Complete privacy for affordable cost | Weight loss procedures | Infertility treatment | Board certified physicians | Low cost surgeries