Male breast reductions are mostly conducted to correct a condition called Gynecomastia. Though this condition affects 40 to 60 percent of all men, to some extent and the condition quite frequently only affects one breast. The procedure is aimed to make their chests appear more symmetrical. Though there are many potential causes, the exact cause of Gynecomastia is unknown.
Excess breast tissue can develop in young boys during puberty which generally disappears within a year. Obesity, excessive alcohol consumption, tumors, genetic disorders, chromosomal abnormalities, impaired liver function and the use of medications that contain estrogen are other reasons for the same..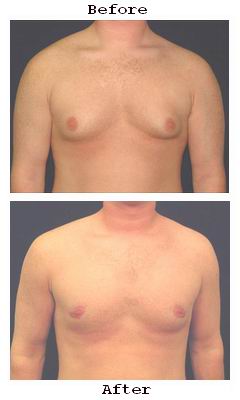 In one method removal of excess glandular tissue from the body is done with a scalpel. Liposuction may be done alongside to remove excess fatty tissue.
In liposuction excess amounts of fatty breast tissue is removed by inserting a thin tube (cannula), through an incision. Suitable drains will be placed in the surgery site remove excess fluids that may accumulate after the surgery.
The gynecomastia surgery procedure is done under a general anesthesia or a combination of local anesthesia with sedation and takes approximately three hours. Any drains used are removed in about three days after surgery. Total recovery time is approximately six weeks.
The other Cosmetic Procedures are:
Few Popular Hospitals for Gynecomastia Correction are:
Thailand, Malaysia, Singapore, Turkey and India are the most cost effective locations that offer up to almost 80% savings in comparison to the US.
SurgeryPlanet facilitates a plethora of services to the medical treatment traveler also which includes, a hassle free and discounted travel option, a welcome hand at the airport on arrival, travel in an air-conditioned car, round the clock service & support. Your medical evaluation is pre arranged with the least of waiting time. Once your assessment is complete and found medically fit, the procedure is immediately scheduled without a waiting period. Please read through our Services and Testimonials to understand and select your best options.
Major Treatments Abroad: Obesity / Bariatric Surgery | Spine Surgery | Stem Cell therapy | Fertility treatment | Knee replacement in India and Thailand | Heart Surgery | Organ transplant | Ayurveda Treatment | Heart valve replacement | Hip resurfacing | Hospitals in India and Thailand for Laparoscopic Sterilization| Best hospitals in Asia | JCI & ISO certified Hospitals | Cost effective medical procedures | Healthcare tourism | Complete privacy for affordable cost | Weight loss procedures | Infertility treatment | Board certified physicians | Low cost surgeries