Tummy Tuck or Abdominoplasty is a cosmetic surgery procedure done to make the abdomen more firm. Excess skin and fat from the middle and lower abdomen is removed in order to tighten the muscle and fascia of the abdominal wall. Woman with loose or sagging abdominal tissue after pregnancy or after major weight loss are those who might need this procedure.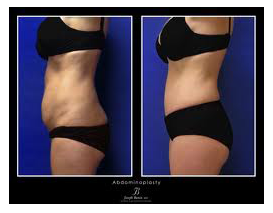 A Complete abdominoplasty involves an incision made from hip to hip just above the pubic area.alt A secondary incision is made to free the navel from the surrounding skin. The skin is detached from the abdominal wall and the exposed muscle fascia wall is tightened with sutures. The excess skin and fat are removed. The belly button stalk is repositioned through a new hole and sutured into place. This process may be followed by Liposuction for further refining.
In Partial abdominoplasty the incision is smaller and fat of the lower abdomen are detached in a more limited fashion from the muscle fascia. The skin is stretched down to the desired extent and the excess skin is removed.
A compression garment is worn during the recovery period which may be between one to four weeks.
The other Cosmetic Procedures are:
Thailand, Malaysia, Singapore, Turkey and India are the most cost effective locations that offer up to almost 80% savings in comparison to the US.
SurgeryPlanet facilitates a plethora of services to the medical treatment traveler also which includes, a hassle free and discounted travel option, a welcome hand at the airport on arrival, travel in an air-conditioned car, round the clock service & support. Your medical evaluation is pre arranged with the least of waiting time. Once your assessment is complete and found medically fit, the procedure is immediately scheduled without a waiting period. Please read through our Services and Testimonials to understand and select your best options.
Major Treatments Abroad: Obesity / Bariatric Surgery | Spine Surgery | Stem Cell therapy | Fertility treatment | Knee replacement in India and Thailand | Heart Surgery | Organ transplant | Ayurveda Treatment | Heart valve replacement | Hip resurfacing | Hospitals in India and Thailand for Laparoscopic Sterilization| Best hospitals in Asia | JCI & ISO certified Hospitals | Cost effective medical procedures | Healthcare tourism | Complete privacy for affordable cost | Weight loss procedures | Infertility treatment | Board certified physicians | Low cost surgeries