Colon is the lower part of the intestine, also known as the large intestine.
Using a laparoscopic advanced minimally invasive approach, avoids the need for a large abdominal incision. Pain is significantly less. The length of hospital stay is 2-4 days and one can return to work as early as 2-3 weeks.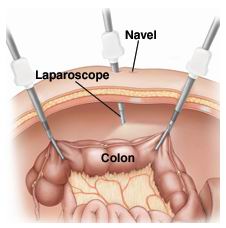 In laparoscopic colon resection surgery, the patient is given general anesthesia. About 3-6 small incisions are made in the abdomen. One is used for the laparoscope which is attached to a camera thatLaparoscopic Colon Surgery sends images to a video monitor. The other incisions are used to insert instruments to hold or manipulate tissue in the abdomen. Carbon dioxide gas is inflated into the abdominal cavity to allow room to work and allow the surgeon to see. The diseased portion of the colon is identified and carefully dissected and removed. In some cases one of the incisions may be lengthened. At the end of the surgery, carbon dioxide gas is removed and incisions are closed with necessary sutures.
Tests done prior to surgery may include
Colonoscopy or barium enema tests to enable the physician to look inside the colon (large intestine)
CT scan of the abdomen
Blood tests, electrocardiogram (EKG) or chest x-ray
Advantages of Laparoscopic Colon Resection Surgery towards Large Abdominal Surgery?
Decreased post operative pain
Reduced hospital stay
Earlier return to solid-food diet
A more rapid return to bowel function
Earlier mobility and resuming of activities
Minimally sized incisions with a better cosmetic result
As with any surgery there are risks. The risk of one of these complications is usually no greater than if the surgery were done with the open technique. Complications that can occur are as in any case of surgery are:
Bleeding
Infection involving the wound, blood or abdomen
Injury to surrounding organs such as small intestine, ureter or bladder
A possible leak where the colon was joined together
Blood clots to the lungs
Sometimes it is not possible for the surgeon to use the laparoscopic technique because it may be difficult to see or handle organs safely. The surgeon decides to perform an open procedure either before or during the surgery. The surgeon may decide to convert the laparoscopic surgery to an open procedure in certain situations and for patient safety. Though very infrequent, when conversion to an open technique occurs, it should not be considered a failure of the procedure. Factors that might increase the possibility of changing to an "open" procedure are obesity, previous abdominal surgery causing dense scar tissue, inability to see organs or bleeding during surgery.
Post operation, one may engage in light activity at home. If mild post operative pain is experienced pain medication can be undertaken as advised. The physician would suggest with liquid diets followed by gradually taking solid foods. Resume normal activities such as showering, stair climbing, working, lifting, driving and having sexual intercourse after discussing with your physician.
The other Gastro procedures are
Few Major Hospitals for Laparoscopic colon surgery are
Thailand, Malaysia, Singapore, Turkey and India are the most cost effective locations that offer up to almost 80% savings in comparison to the US.
SurgeryPlanet facilitates a plethora of services to the medical treatment traveler also which includes, a hassle free and discounted travel option, a welcome hand at the airport on arrival, travel in an air-conditioned car, round the clock service & support. Your medical evaluation is pre arranged with the least of waiting time. Once your assessment is complete and found medically fit, the procedure is immediately scheduled without a waiting period. Please read through our Services and Testimonials to understand and select your best options.
Hospitals For Laparoscopic Colon Surgery | Doctors For Laparoscopic Colon Surgery | Surgery Laparoscopic Colon Surgery | Cost Laparoscopic Colon Surgery | Treatment Laparoscopic Colon Surgery | Destinations Laparoscopic Colon Surgery | Risks Laparoscopic Colon Surgery | Laparoscopic Colon Surgery In India | Laparoscopic Colon Surgery Recovery | Laparoscopic Colon Surgery Information | Laparoscopic Colon Surgery Thailand | Laparoscopic Colon Surgery In Malaysia | Laparoscopic Colon Surgery Abroad | Laparoscopic Colon Surgery Donors | Laparoscopic Colon Surgery Overseas | Laparoscopic Colon Surgery Low Cost | Laparoscopic Colon Surgery In Singapore | Laparoscopic Colon Surgery In Argentina | Large Intestine | Colon | Abdominal Cavity | Colonoscopy | Barium Enema Tests