A Face Lift or rhytidectomy, is a cosmetic procedure designed to remove wrinkles from the face and neck in order to reduce the signs of aging. One gets a more youthful appearance by tightening the skin on the face and the neck. Results are best to those who have maintained some skin elasticity, though anyone with loose skin on the face or neck may consider getting a face lift in order to improve his or her overall appearance.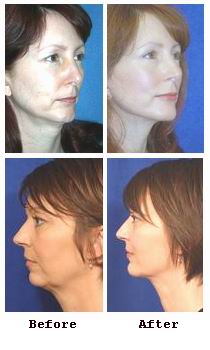 The excess or loose skin from the chin, face, cheeks and neck are removed to give the face a "lift". Suitable incisions are made near the temple area and around the curves around the earlobe on both sides. Sometimes other suitable incisions are made below the chin in order to remodel the face. Metal clips hold the skin in place for the surgeon to get the desired effect before the incision is stitched. The procedure takes only two to three hours to complete, overnight stay in the hospital is advised.
As with any surgical procedure, there are potential side effects associated with the face lift surgery including bleeding, infection and scarring.
Broken capillaries, which occurs most often in the neck and cheeks that need laser surgery treatment
Temporary crusting of the incision area
Temporary discoloration of the skin
Unsatisfactory results
Temporary hair loss in the area of incisions
Temporary or permanent Nerve damage
Partial Numbness in the incision area
The results are long-lasting however it may be necessary to undergo an additional surgery in a few years in order to maintain the results.
The other Cosmetic Procedures are:
Few Popular Hospitals for Face and Neck Lift are:
Thailand, Malaysia, Singapore, Turkey and India are the most cost effective locations that offer up to almost 80% savings in comparison to the US.
SurgeryPlanet facilitates a plethora of services to the medical treatment traveler also which includes, a hassle free and discounted travel option, a welcome hand at the airport on arrival, travel in an air-conditioned car, round the clock service & support. Your medical evaluation is pre arranged with the least of waiting time. Once your assessment is complete and found medically fit, the procedure is immediately scheduled without a waiting period. Please read through our Services and Testimonials to understand and select your best options.
Major Treatments Abroad: Obesity / Bariatric Surgery | Spine Surgery | Stem Cell therapy | Fertility treatment | Knee replacement in India and Thailand | Heart Surgery | Organ transplant | Ayurveda Treatment | Heart valve replacement | Hip resurfacing | Hospitals in India and Thailand for Laparoscopic Sterilization| Best hospitals in Asia | JCI & ISO certified Hospitals | Cost effective medical procedures | Healthcare tourism | Complete privacy for affordable cost | Weight loss procedures | Infertility treatment | Board certified physicians | Low cost surgeries