Lip Reduction, also called reduction cheiloplasty, is the procedure to remove excess lip tissue to reduce the appearance of overly large lips. The procedure is normally performed under local anesthesia although some surgeons may choose to perform it under Light Sleep anesthesia. The procedure takes only about 20 to 40 minutes with a healing time of 2 weeks. If you find that your lips are too large and interferes in speach you may wish to consider this procedure. Though not invasive, the procedure will cause discomfort and swelling.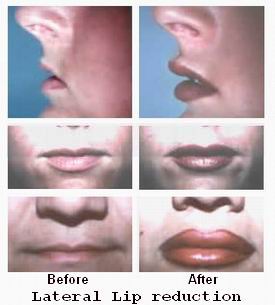 If you are administered a IV Liquid Sedative, a hypodermic needle is inserted into the tube Lateral lip Reduction Surgery Reduce the appearance of Cverly Large Lipsthat you are attached to.The surgeon will take an incision the length of your lip inside of your mouth and a suitable strip of skin from one or both lips are removed as required.
The surgeon then closes your incisions with a non-dissolvable type suture, though some surgeons may use a dissolvable type. An antibiotic-soaked piece of gauze may be placed between your lips and your gums. Once awakened you are monitored in the recovery room until you are ready to be released. Your lips and mouth may feel tight and quite tender as the anesthesia wears off.
Prescribed medication will be given to alleviate this pain and discomfort.
Typical recovery would be for one to two weeks. Sleeping with the head in a raised position is advised during this time. Your face will look even more swollen in the first 3 days, but gradually reduce as the days go on along with light bruising if any. There would be discomfort for several weeks with restrictions on oral diets. Food which has higher content of bacteria, namely fish and meat is best avoided during the healing period. Eating foods such as this may increase your risk of infection due to the incisions being in the mouth. An antibacterial mouth wash is recommended to be used several times a day. DO NOT PICK or tongue your incisions or sutures!
Sutures will be removed in a week to 10 days postoperatively, even though you may feel better, one must avoid any stenuous activity for the first 3 weeks that could raise the blood pressure as this could cause internal bleeding at your treatment area.
The other Cosmetic Procedures are:
Few Popular Hospitals for Lateral Lip Reduction are:
Thailand, Malaysia, Singapore, Turkey and India are the most cost effective locations that offer up to almost 80% savings in comparison to the US.
SurgeryPlanet facilitates a plethora of services to the medical treatment traveler also which includes, a hassle free and discounted travel option, a welcome hand at the airport on arrival, travel in an air-conditioned car, round the clock service & support. Your medical evaluation is pre arranged with the least of waiting time. Once your assessment is complete and found medically fit, the procedure is immediately scheduled without a waiting period. Please read through our Services and Testimonials to understand and select your best options.
Major Treatments Abroad: Obesity / Bariatric Surgery | Spine Surgery | Stem Cell therapy | Fertility treatment | Knee replacement in India and Thailand | Heart Surgery | Organ transplant | Ayurveda Treatment | Heart valve replacement | Hip resurfacing | Hospitals in India and Thailand for Laparoscopic Sterilization| Best hospitals in Asia | JCI & ISO certified Hospitals | Cost effective medical procedures | Healthcare tourism | Complete privacy for affordable cost | Weight loss procedures | Infertility treatment | Board certified physicians | Low cost surgeries