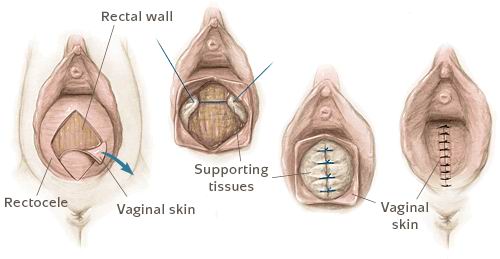 This surgery is required when the vagina and the rectum are no VAGINA POSTERIOR REPAIRlonger held properly to their respective positions. The rectum drops down onto the back of the vagina and shows out as a bulge. This bulge is called a prolapse and a prolapsed rectum is called a rectocele. This situation causes the rectum not to empty properly when needed. The prolapse gives a lot of discomfort in the vagina. The most common reasons are due to overstretch of the supports to the vagina and rectum during pregnancy. In most cases it gets back to the normal position.
The operation tightens up the supports to the rectum and removes the bulge in the vagina.
The patient is administered general anesthesia and be completely asleep. An incision is made through the posterior of the vagina and the supports to the rectum are shortened with stitches and the bulging part of the vagina cut away. This relieves the weakness. The wound in the vagina is closed with sutures. Hospitalization for about six days is required after this surgery.
The other Cosmetic Procedures are:
Few Popular Hospitals for Vagina Posterior Repair are:
Thailand, Malaysia, Singapore, Turkey and India are the most cost effective locations that offer up to almost 80% savings in comparison to the US.
SurgeryPlanet facilitates a plethora of services to the medical treatment traveler also which includes, a hassle free and discounted travel option, a welcome hand at the airport on arrival, travel in an air-conditioned car, round the clock service & support. Your medical evaluation is pre arranged with the least of waiting time. Once your assessment is complete and found medically fit, the procedure is immediately scheduled without a waiting period. Please read through our Services and Testimonials to understand and select your best options.
Major Treatments Abroad: Obesity / Bariatric Surgery | Spine Surgery | Stem Cell therapy | Fertility treatment | Knee replacement in India and Thailand | Heart Surgery | Organ transplant | Ayurveda Treatment | Heart valve replacement | Hip resurfacing | Hospitals in India and Thailand for Laparoscopic Sterilization| Best hospitals in Asia | JCI & ISO certified Hospitals | Cost effective medical procedures | Healthcare tourism | Complete privacy for affordable cost | Weight loss procedures | Infertility treatment | Board certified physicians | Low cost surgeries