DVIU known as direct vision internal urethrotomy is a surgical procedure using a camera and endoscopic instrument to cut a urethral stricture and fix the abnormal narrowing of the urethra. DVIU is an inexpensive, outpatient procedure with few complications and high success rates for short strictures. Done as a treatment for male urethral stricture disease, internal urethrotomy (IU) has advantages of ease, simplicity, speed and short convalescence. Urethral stricture is one of the oldest known urologic diseases and remains a common problem with high morbidity. Internal urethrotomy refers to any procedure that opens the stricture by incising or ablating it transurethrally. The most common complication of internal urethrotomy is stricture recurrence.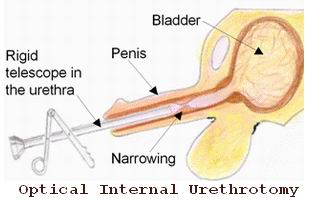 Internal urethrotomy involves incising the stricture transurethrally using endoscopic equipment. TheOptical Internal Urethotomy(OTU)- Endoscopic surgery incision allows release of scar tissue. Success depends on the epithelialization process finishing before wound contraction significantly reduces the urethral lumen caliber. The incision is made under direct vision at the 12 o'clock position with a urethrotome. Care must be taken not to injure the corpora cavernosa because this could lead to erectile dysfunction.
The most common risk encountered post surgery is recurrence of the stricture. Other complications include bleeding, extravasation of irrigation fluid into perispongial tissues and increasing fibrotic response. Usually an internal urthral catheter is left post surgery for about 3-5 days to alow epithelialization and to oppose would contraction forces. Self-catheterization after internal urethrotomy has been used to improve cure rates. However, strictures typically return once the patient stops.
Patients undergoing internal urethrotomy should return to the outpatient clinic for catheter removal on postoperative day 3-5.
All activities are to be carefully handled. Pain would be felt for about 2 weeks for which pain medication would be given. The catheter would need to remain in place for 2 days to 2 weeks.
Avoid lifting of heavy objects for 2 weeks.
Ensure adequate level of fluid intake is maintained daily (approx 2 litres).
Avoid driving for a week.
Avoid sex for 1 week.
The other Urology Procedures are:
Few Major Hospitals for Optical Internal Urethrotomy (OTU) - (Endoscopic Surgery) are:
Thailand, Malaysia, Singapore, Turkey and India are the most cost effective locations that offer up to almost 80% savings in comparison to the US.
SurgeryPlanet facilitates a plethora of services to the medical treatment traveler also which includes, a hassle free and discounted travel option, a welcome hand at the airport on arrival, travel in an air-conditioned car, round the clock service & support. Your medical evaluation is pre arranged with the least of waiting time. Once your assessment is complete and found medically fit, the procedure is immediately scheduled without a waiting period. Please read through our Services and Testimonials to understand and select your best options.
Major Treatments Abroad: Obesity / Bariatric Surgery | Spine Surgery | Stem Cell therapy | Fertility treatment | Knee replacement in India and Thailand | Heart Surgery | Organ transplant | Ayurveda Treatment | Heart valve replacement | Hip resurfacing | Hospitals in India and Thailand for Vasectomy Reversal | Best hospitals in Asia | JCI & ISO certified Hospitals | Cost effective medical procedures | Healthcare tourism | Complete privacy for affordable cost | Weight loss procedures | Infertility treatment | Board certified physicians | Low cost surgeries